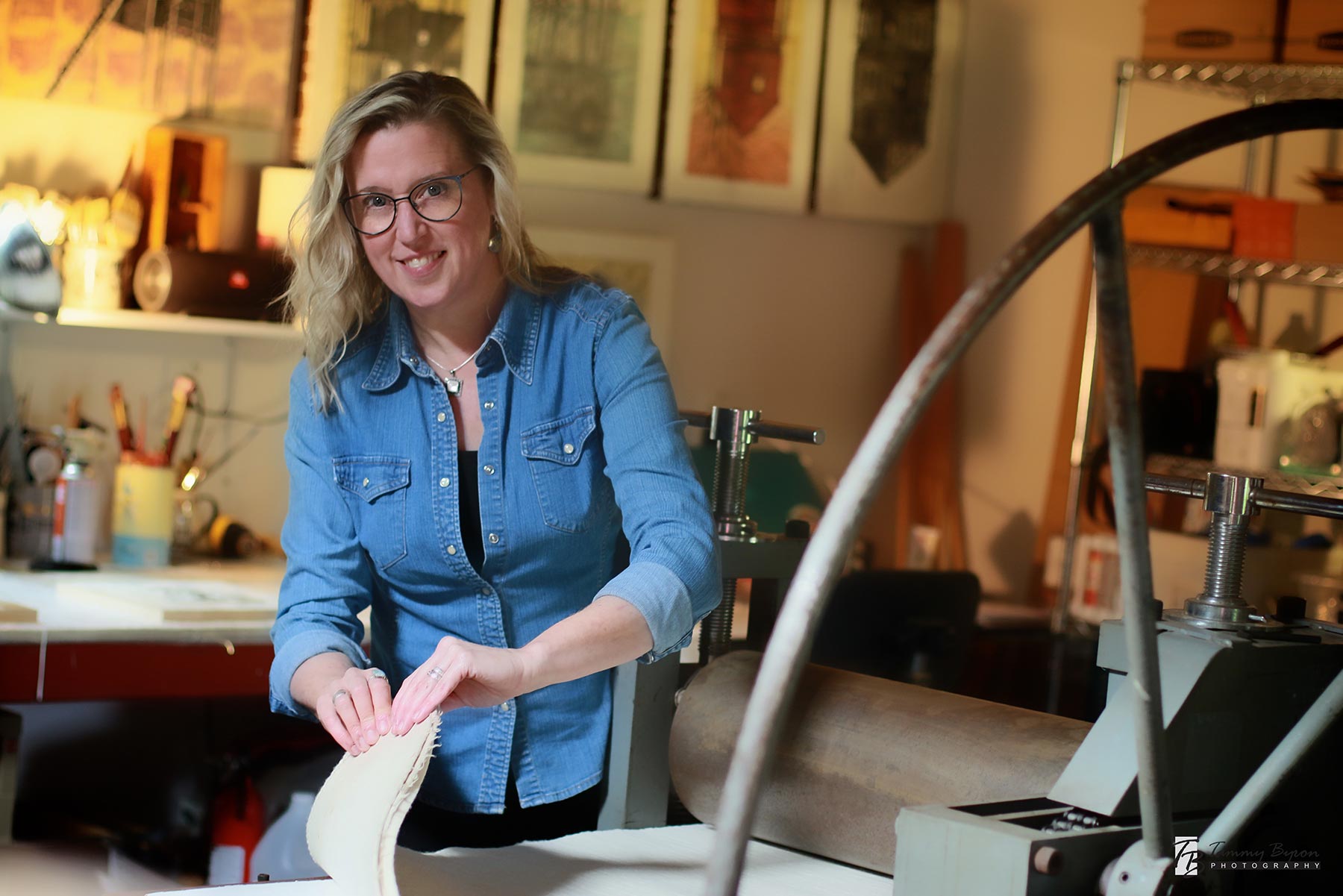 Photo credit: Tammy Byron Photography
Kate Knox's New England roots are evident throughout her mixed media work. Colonialism in all of its downfalls, the working waterfront - stoic and scraping, empty dairy barns still standing on pride alone. Taking all these ingredients from yesterdays living, Knox liberates them from their fixed traditions, their superstitions, and spins them into surreal illusions quite capable of anything. Combining historic mediums with contemporary awareness, Knox delves into the pitfalls and possibilities associated with trying to transcend ones personal, political and cultural history.
Knox, who received her BFA in painting and printmaking from the New England College Institute of Art and Design in 2015, summa cum laude, is the 2021 recipient of the Piscataqua Region Artist Advancement Grant. Her mixed media work can be found in many public and private collections and her work has been featured in Art and Cake Magazine, Iru Magazine, The Cafe Review and Ayris magazines.
CV
Education:
December 2021
Institute of Art and Design at New England College, Manchester, NH
BFA – Painting and Printmaking, summa cum laude
Awards:
2021
Recipient Piscataqua Region Artist Advancement Grant
2011 - 2015
Gakidis Scholarship
2006 - 2010
Fuller Merit Scholarship
Exhibition Record:
2021 April
Telephone: An International Arts Experiment, Juror: Nathan Langston, Seattle, WA
2020 September
Printmaking at the Edge, Juror: Sally Dion, The Art Center, Dover, NH
2019 January
Boston Printmaker's Biennial, Boston, MA
2018 September
Come Back, Come Back, Twiggs Gallery, Boscawen, NH
2018 September
Rochester Museum of Fine Art, Juror: Jeannie Motherwell, Rochester, NH
2018 June
Prints and Pots, Juror: Ned Roche, Chase's Garage, York, ME
2017 January
Boston Printmaker's Biennial, Boston, MA
2016 August
Complex 550, Juror: Dacia Martin, Studio 550, Manchester, NH
2016 July
On the Map: A Regional Juried Exhibition, Juror: Christopher French, 3S Artspace, Portsmouth, NH
2016 June
Open Juried Exhibition, Juror: Kristina L. Durocher, Barn Gallery, Ogunquit, ME
2015 May
NHIA Senior Exhibition, Emma B. French Gallery, Manchester, NH
2014 March
After You, Art and Ekphrastics, Artstream Gallery, Dover, NH
2013 January
Mt. Washington Exibition, Eye Gallery, NH Institute of Art, Manchester, NH
2011 February
Boston Printmakers, Arches Student Print Show, Danforth Museum of Art, Framingham, MA
2011 January
Prints of the Year 2010: What's New in NH Printmaking, Franklin Pierce Law Center, Concord, NH
Publications:
2021 April
"Conestoga Zen: An Anthology" Edited by Rustin Larson
2021 March
Ayris, Edited by Ryan Flahrety, Manchester, NH
2021 February
Art and Cake: A Contemporary Art Magazine, Los Angeles, CA
2018 March
Ayris, Edited by Ryan Flahrety, Manchester, NH
2016 Spring
Luna Luna, edited by Joanna C. Valente, Brooklyn, NY
2015 Winter
The Cafe Review, edited by Steve Luttrell, Portland, ME